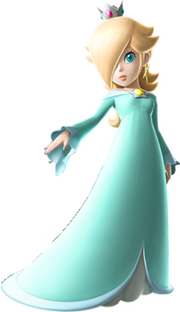 Age: 17 years

                                                                                                                           Gender: Woman

                                                                                                                            Work: Princess, guardian

                                                                                                                              universe.

Personality
Edit
Is kind and serious, and very wise.
Appearance
Edit
She is young, pretty, she has a very light skin, teal eyes, and light blonde straight hair with a part of hair
covering one eye.
A beautiful teal pacific dress with a golden star on the chest, and with a long sleeves.
Afiliation
Edit
Nice.
Christmas, Lumina, Lumi, Stargazer & Peach.
Wanda, cosmic spirit, fly.
Rosalina has a twin.