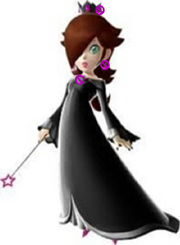 This is Rosalina's twin, is bad, and she is different:
she is Bowser's girlfriend.
First appearance
Edit
Mario kart: Bad Bosses
Personality
Edit
It is treacherous, believed, threatening, disgusting and jealous.
She has an explosive powers, who touch she is burst.
Appearance
Edit
She is pretty, like Rosalina, but is bad, and she wear Rosalina's hairstyle but brown, and teal eyes and pink lips.
She wear a black dress with prohibited pink symbol, because is dangerous.
You can see
Edit